This plugin automatically reminds users to verify their account or to log in. Multiple accounts can be notified. Available as a free version and a paid pro version.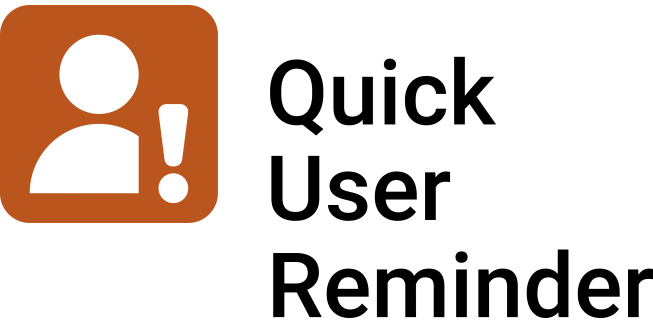 Notify users easily and fully automatically
This plugin notifies users from non-activated and/or inactive user accounts in Joomla! automatically. You can individually configure the account types to be notified (not activated, not logged in or inactive) by specifying a time period. If user accounts match the type and the selected period of time, the associated users are automatically notified when a specific event occurs. For example, you can remind users to confirm their registration or to come back to your site.
Features of Quick User Reminder
Automatic notification
When enabled, the plugin notifies Joomla! Users automatically when an event occurs.
Control over different accounts
There are three types of accounts that can be notified: not activated, not logged in and inactive.
Different periods of time can be set
Set a period of time (e.g. one month) after which the corresponding accounts will be notified.
Benachrichtigung an Administrator
Select the trigger event at which the users will be remindes: Login in the backend as super user, administrator* or manager*.
Notification of administrator
Automatic notification with information about the notified accounts to the administrator by email *
* Only in available in pro version.
Choose the right version of the Quick User Cleaner plugin for your individual purposes.
The Pro version offers you all functions, updates and premium support for a whole year.
The free version is particularly suitable for testing the plugin.
Do you have questions about the different versions? Contact me:
Compare Free to Pro Version
Free Version
Pro Version
User accounts

Not activated, not visited, idle accounts

Not activated, not visited, idle accounts

Run on backend login

✔

✔

Login triggers

Super Benutzer

Super Benutzer, Administrator, Manager, Manually

Limit notifictaions

✔

(set to 15)

✔

Email to users

✔

✔

Email to admin

✗

✔

Individual mail texts

✗

✔

Placeholder in mails

✗

✔

Sending test mails

✗

✔

HTML mails

✗

✔

User list

✗

✔

Remind user manually

✗

✔

Mail log

✗

✔

Premium support

✗

✔
Frequently asked questions
1.4.0 - Wednesday, 15/03/2023
1.3.1 - Tuesday, 07/02/2023
1.3.0 - Friday, 03/02/2023
1.2.1 - Sunday, 22/01/2023
1.2.0 - Friday, 20/01/2023
1.1.0 - Tuesday, 03/01/2023
1.0.0 - Tuesday, 27/12/2022
1.1.1 - Tuesday, 07/02/2023
1.1.0 - Sunday, 22/01/2023
1.0.0 - Tuesday, 27/12/2022